Pete's Bread Machine Bread
Annacia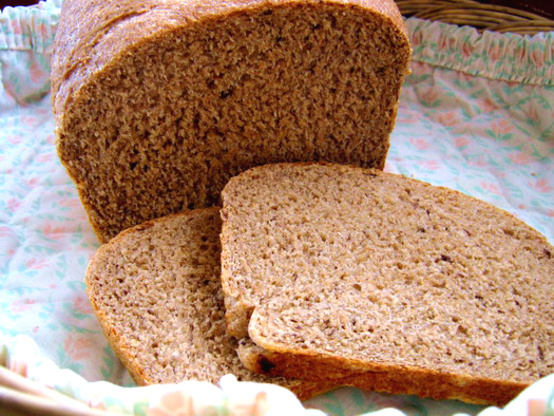 This is a sweet bread loaded with cinnamon and raisins. Our niece's husband, Pete is the owner of this recipe and we post it with pleasure.

This is delicious. I need to say that when the raisins are added at the beginning like this that they are really incorporated into the bread and are no longer "raisins" as such. If you want whole raisins I suggest that they be added at the beep to signify the right time for additions. I used 1 tsp of salt and 2 tbsp of Splenda Brown Sugar, that worked well for me. It turns out to be a lovely solid whole wheat loaf that makes wonderful toast and P.B. & J. sannies. I love that there is no added fat at all. I think it's a keeper :D
Place water in bread machine, salt, brown sugar and cinnamon.
Add layer of raisin, 2 cups whole wheat flour, another layer of raisins and 2 cups whole wheat flour another layer of raisins and 2/3 cup of whole wheat flour . Add the 3 teaspoons of yeast on top.
You can go to to the whole wheat setting or if you prefer the dough cycle.
After the dough cycle put into a pan let raise until double. Then bake at 350°F for 30 minutes or until golden.