Pesto-Zucchini Quesadillas
Bebou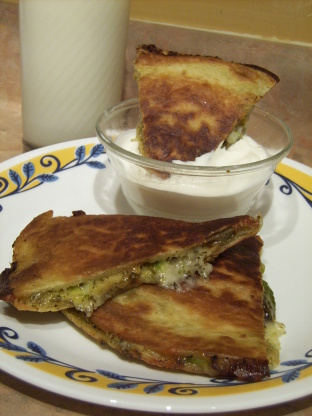 These quick 'n easy quesadillas are perfect for the late night snacker with discriminating tastes, or the bachelor/ette cooking for one. (though multiples are entirely possible - cooking them simultaneously will surely take balancing!). When cut into smaller wedges, these are also ideal as appetizers, and can be served between warm and room temperature. (*a plus to serve on St. Patty's day, as all the ingredients are GREEN!)

Very interesting, maybe next time I will add onions and chicken!
Cut zucchini into 1/2 cm wedges and sauté until outsides begin to get slightly crispy.
Meanwhile, spray a large skillet with Pam, turn the stove to medium-low heat, and lay down your tortilla.
Coat the entire tortilla with a thin coat of pesto.
Sprinkle with grated cheese.
When zucchini is done, spread pieces over one half of the tortilla.
Cut avocado into slices and spread evenly over zucchini.
Fold over quesadilla, and turn heat up to medium-high.
Flip occasionally until cheese is melted.
Serve with light sour cream and salsa.