Pesto Vegetable Soup (Crock Pot)
Debbwl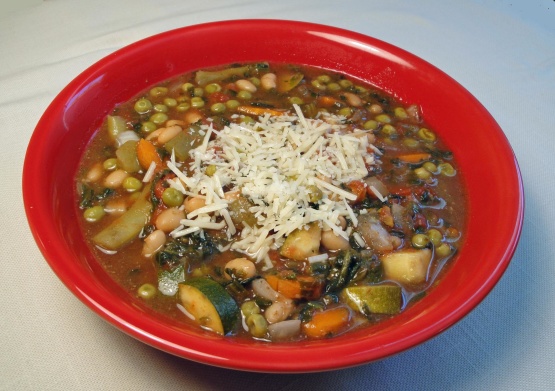 WOW! Saw this recipe and had to adopt and post. I grow tons of basil and freeze my pesto (Thanks to Zaar directions) I tried this and really enjoyed it as did the family. This is a great recipe for summer harvest or anytime of year. I added in some veggies as DH and I love to eat fresh vegetables and he likes substantial soups.(these additions are in parenthesis) I hope you enjoy. Adopted from Mr. Food- a hometown celebrity chef

Delicious! I sauteed 4 cloves of garlic with the onions in about 1 T of basil infused olive oil instead of using garlic broth. Once they begin to soften, I added the other soup ingredients.(plus carrot and summer squash -- no potatoes) and cooked on high for 3 hours, then low for 1, then added pesto and spinach as directed. Easy, but very tasty!
2

(793.78 g) canseasoned chicken broth with roasted garlic (I made my own)

236.59

ml onion, chopped

283.49

g package frozen peas (can be fresh)

255.14

g frozen cut green beans (can be fresh)

1

large zucchini, chopped

793.78

g can tomatoes (cut up or chopped)

2

(850.48 g) can cannellini beans, drained and rinsed

4.92

ml pepper

29.58

ml pesto sauce (2 frozen pesto ice cubes)

170.09

g bagfresh Baby Spinach
grated parmesan cheese
additional pesto sauce
carrot, cut into disks
potato, cut into cubes
celery, chopped
Put 1st 8 ingredients into 5-6 quart crock pot, cover and cook on low 6 hours. (add in additional vegetables at this time if you so choose).
Stir in pesto and spinach and cover and cook on low an additional 30 minutes.
Serve with grated cheese and additional pesto sauce. Add in some chunky warm rustic bread and you have a comfy meal.
note: cooked chicken can be added as well in the last 30 minutes as well.