Brenda.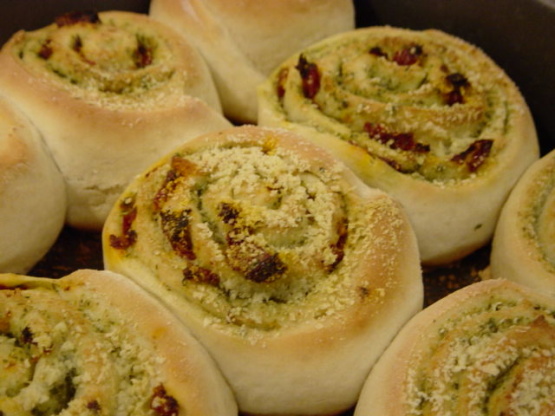 Swirls of pesto and sun-dried tomatoes throughout this roll. Cook time includes 30 minutes rise time.

I used a frozen loaf of bread dough, but followed the other ingredients and technique. The recipe made a lovely (& well received) pan of rolls. I would make these again to serve with a pot of spaghetti or pasta. They have a pretty presentation too. Thank you for sharing the recipe!
Lightly grease a 13-by-9-inch baking pan; set aside.
Prepare dough according to package directions using water, egg and butter; knead on a floured board for 5 minutes.
Roll or press into a 12-by-14 inch rectangle.
Spread with pesto
Sprinkle with sun-dried tomatoes and 2 tablespoons cheese.
Roll up dough starting at the short end.
With a very sharp knife, cut into 12 equal pieces and place cut side up in prepared pan.
Sprinkle with remaining 2 tablespoons cheese.
Cover and let stand in a warm place for 30 minutes or until double in size.
Preheat oven to 400°F
Bake for 20 to 25 minutes or until cooked through.