Bergy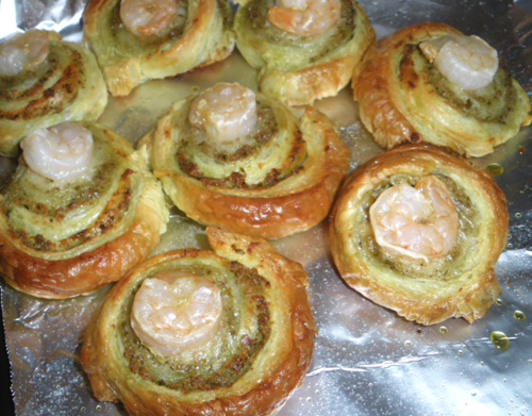 This recipe is from the Cloverleaf recipe collection. The recipe calls for canned shrimp so I will put that in the ingredient list but I will use 8 oz fresh. Parmesan cheese works in place of Asiago. The reccipe makes exactly 36 spirals. Place them a bit apart for baking as they do expand. I am freezing 2 dozen - not baked and I will not add the shrimp until I bake them. If you freeze some defrost in fridge for 3 hours and then bake as suggested. If you are baking them right after making them the timing is perfect. We really enjoyed these. Hope you do too. One other suggestion I don't think that the shrimp on top add that much to the appearance I suggest that you add all the shrimp into the spread mixture. Perhaps a small piece of red pepper or pimiento on top for colr.
Preheat oven to 425°F.
Reserve 36 shrimp.
Combine remaining shrimp, cheese, prosciutto, pesto and lemon juice in a blender and pulse until combined.
Roll the puff pastry into two 10" x 14" rectangles.
Spread each sheet evenly with the pesto mixture leaving a 1"border around the edge.
Start at the short end and roll each rectangle into a tight pinwheel.
Wrap each pinwheel in plastic wrap and place in the freezer for 10 minutes.
Remove from freezer and cut the pinwheels into 1/2"slices.
Place each slice, on a parchment lined baking sheet.
Place one shrimp on top and in th center of each piece.
Bake for 15-16 minutes or until golden and crisp.