LauRue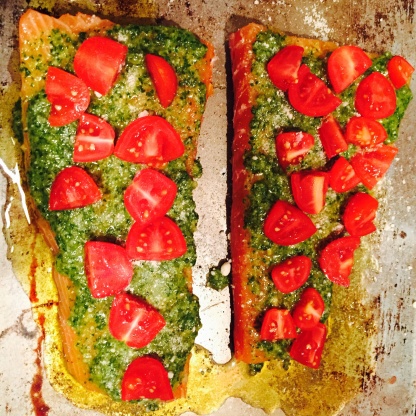 This salmon recipe is so simple and yet extremely impressive; I often serve it to company or on special occasions and I'm always asked for the recipe. I serve it with angel hair pasta (lightly tossed with fresh herbs and olive oil), a basic spring mix salad with vinegarette, and a crusty, hearty garlic bread - enjoy! This is a new "go-to" in my recipe file. We made this last night and it was FANTASTIC.... assuming you've already got (or made) the pesto, how much easier could it be??? We used my home made pesto (I make it in huge batches when the basil crop comes in, 2-3 times each summer), and I took the option of topping it with thin slices of tomato. We also used one uncut salmon fillet which was then cut into 6 nice serving-sized pieces. We served it without a starch, but it would be nice with roasted potatoes or rice pilaf... something with a slight lemony hint would be great.
Lightly coat a baking pan with cooking spray.
Place each salmon fillet in the baking pan and drizzle with olive oil.
Apply freshly ground pepper to taste over each fillet.
Gently spread pesto sauce over each fillet.
Sprinkle parmesean cheese over each fillet.
Optional: Place plum tomatoes slices on each fillet and sprinkle with a bit of additional parmesean cheese.
Bake prepared salmon fillets in a 350 oven for approximately 20 minutes or until fish flakes easily with fork.