ImPat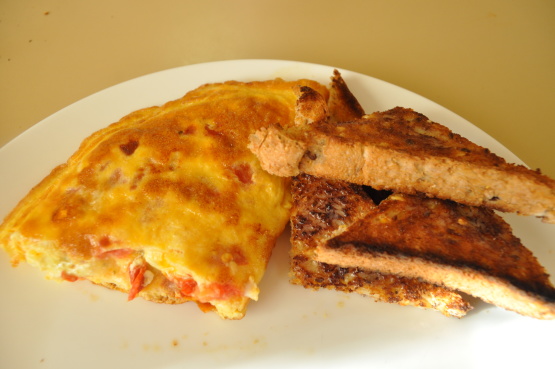 Recipe from Buitoni (maker of Italian foods). Sounds good, but have not yet made it.

I had a bit of a disaster as I assembled the ingredients for this dish. I was planning on using feta for the cheese but when I took my crumbled feta out of the fridge I found that it had gone moldy :(. I had my taste buds all set for this brekky so I substituted the only other cheese in the fridge, an old cheddar. I also used my own pepper. After all this I found that I loved this dish! Thanks for sharing. Made for Kittencal's Europe on a Plate forum.
Combine eggs and tomato in a small bowl and set aside.
Haet greased, large nonstick skillet over medium-high heat. Pour in egg mixture. Mixture should immediately set at the edges.
Carefully push cooked mixture at edges toward center so uncooked portions can reach the hot pan surface, tilting pan as necessary.
While top is still moist and creamy-looking, top with roasted pepper, pesto and cheese.
Reduce heat to low; fold omelet in half. Cook an additional 2 minutes and serve immediately.