A beautiful and tasty way to use the widely available fresh mozarella balls. I use homemade Pesto, but you can find it in jars in the Gourmet section. Arranged on toothpicks, these bite-size appetizers are festive and colorful.
Directions
Mix pesto, olive oil, salt and pepper.
Place drained mozzarella balls in a ziplock bag and add pesto mixture.
Gently squeeze things around in the bag so that all the balls are nicely coated.
Place a coated mozzarella ball and a cherry tomato on each toothpick.
To serve, arrange them in a circle on platter and garnish with olives or with fresh basil leaves.
Most Helpful
These were a huge hit at our party. My store carries 'pearl mozzarella' so I threaded two pearls, then one grape tomato, then two additional pearls. Only thing I would do differently next time (no fault of recipe) is use shorter toothpicks. I used "Red Hot Green Olives" as the center filler and it was a smashing hit. Thanks for posting!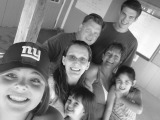 I took these to a friend's summer book club meeting, and everyone enjoyed them immensely! They were super easy, and very fresh tasting. Thanks for the great, easy recipe!

I don't know why I didn't think of this recipe. It uses some of the foods I love most, and has an aspect that I think is essential to a five-star recipe -- colour. Indeed, to add another colour, I used black kalamata olives as the 'garnish'. Thanks Cookin-Diva for a beautiful appetizer that takes only minutes to make.