ImPat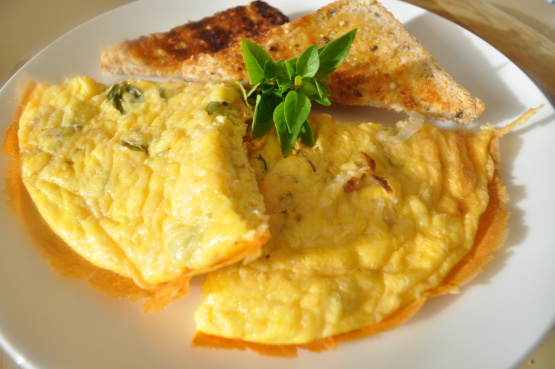 A recipe from Ricardo that look yummy. I didn't like pesto but now I like it.

Top Review by ImPat
When I first saw the title of this recipe I got very excited as I thought I would have a chance of using up some of the lovely home made pesto I had in the fridge but then I saw it actually only used the ingredients of a pesto but then as the basil bush has gone rather crazy in the last couple of weeks I saw it as a good opportunity to use some more of it up. I scaled the recipe back for 2 and the DM and I thoroughly enjoyed our very filling breakfast with a slice of buttered wholemeal/wholegrain toasted bread. Thank you Boomette for a very flavour fulled breakfast, made for Everyday A Holiday.
Preheat oven to 425°F.
In a bowl, mix eggs and ricotta with a whisk until homogeneous. Add salt and pepper and set aside.
In a non sticky skillet ovenproof, soften the onion, garlic and pine nuts in the oil about 4 minutes. Pour the mixture of eggs in the skillet and stir delicately with a spatula for 30 seconds. Sprinkle with basil and cheese (parmigiano). Cook in the oven for 7 to 10 minutes or until the eggs begin to rise. End the cooking under the broiler until the frittata is golden. Serve with a green salad.