Pesto, Feta, and Sun-Dried Tomato Scones
christie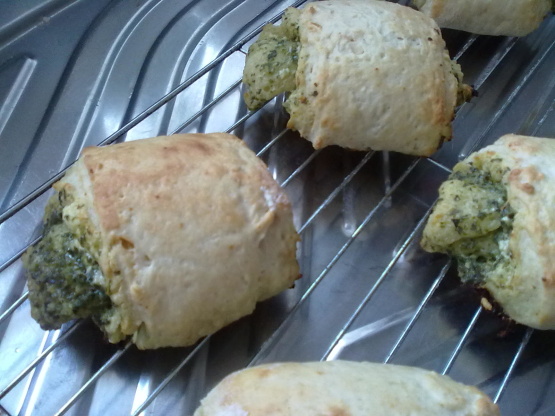 A lovely scone to go with dinner.

I tried making this recipe a few weeks ago, and they turned out great! Will defiantly make these again! My name is Rowan Watson, I am a 12 year old live aboard girl in Tofino, who's recently found an interest in food. I have started up a new blog and have made a link to your recipe. If you would like to check it out, my sight name is: thefloatingfoodfanatic.blogspot.com. I very much enjoyed this recipe, thanks again!
Preheat oven to 400 °F
Butter or lightly spray a 9 inch cake pan. Set aside.
In a large bowl whisk together the flour, sugar, baking powder and salt until combined.
Cut butter into flour mixture using a pastry blender until mixture resembles coarse crumbs.
Make a well in the center of the dry ingredients, add the milk, and stir gently with a wooden spoon until mixture forms moist clumps. Do not over mix.
Gather dough together with hands and place on a lightly floured surface.
Knead until smooth.
Roll dough with a floured rolling pin into a 16x 10 inch rectangle.
With a knife or metal spatula evenly spread pesto over dough. Sprinkle with feta cheese and sun-dried tomatoes.
Starting at the short end, roll dough into a cylinder, brushing off any excess flour as you roll.
With a sharp knife, cut dough in half, and then in half again (4 pieces).
Cut each quarter into 3 equal pieces and place in the prepared pan, cut- side up. (12 pieces).
Brush lightly with olive oil and sprinkle with freshly grated parmesan cheese.
Bake in preheated oven for 15 minutes or until lightly browned on top and toothpick inserted in center of scone comes out clean.
Cool on wire rack.