Pesto Chicken Salad Sandwiches
Ms B.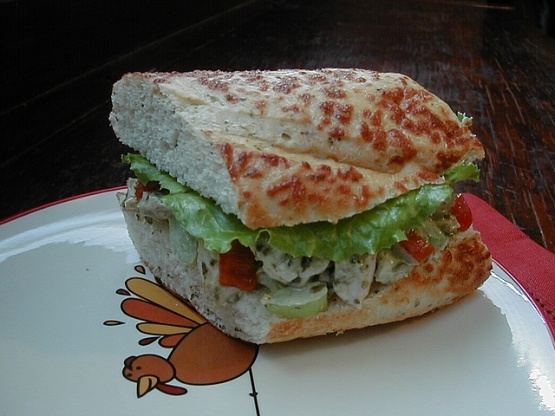 From Cooking Light. You can prepare the chicken salad the night before. You can also substitute baguettes for focaccia if you would like.

I made a batch of Recipe #53526 for this and I am so glad I did! I used some rotisserie chicken, which made it so easy. This was terrific on a homemade bun. I had it with/without walnuts and it was equally good. Thanks for posting, JackieMarie. Roxygirl
Combine first 6 ingredients in a large bowl, stirring with a whisk. Stir in chicken, celery and walnuts.
Spread 1/2°C of salad onto each of 10 bread slices. Top each serving with about 2 tablespoons bell pepper, 1 lettuce leaf, and one bread slice.