twissis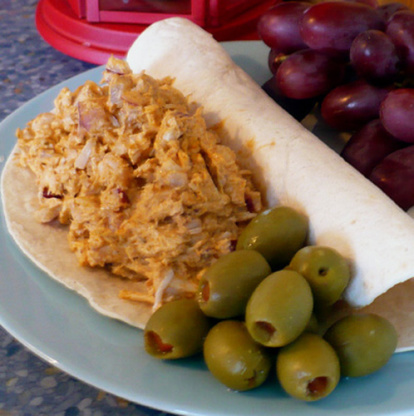 I love this chicken salad because it is lighter than the traditional kind and the flavor from the pesto just takes it a whole other level of deliciousness. I use this salad to make healthy wraps with Light Flatout Bread, low fat cheese, lettuce, red onion, and tomato.

I saw this recipe during Spring PAC 2013 & saved it to make at a later date. We love chicken salad & I was a woman w/a mission to lower fat content w/o sacrificing taste. Regular mayo is 80% fat & light mayo 8% fat. I made a double recipe using a combo of light mayo & 5% sour cream, which reduced the fat content further. The use of pesto (I used red) made certain it did not lack flavor, but what I missed was more texture & volume. Opt adds like celery, olives or even grapes will satisfy that pers pref need for greater texture & volume. Thx for sharing this recipe certain to be the basis for our future batches of chicken salad (with adds as mentioned).
Mix chicken, mayo, onion, and pesto until well combined.
Serve on a sandwich, in a wrap, on a bed of luttuce, in a hollowed out tomato, or simply enjoy plain.