Pesto Chicken or Shrimp Pizza
Boomette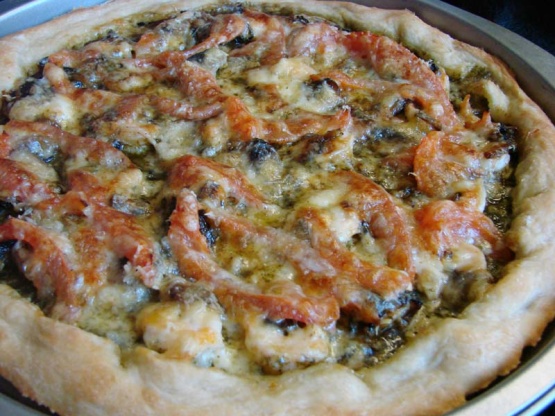 Came up with this one for pizza night...A hit with everyone in my family. Great with chicken or shrimp...whatever you have leftover. I think the balance of the savory pesto with the sweetness of tomato and caramelized onions turned out really nice. If you use a sweet onion such as Vidalia, you can omit the sugar. I used Kittencal's Perfect Pesto with great results. Hope you enjoy!

WOW!! DH and I had this last night and it was amazing!! We were unable to find roasted garlic so we mixed regular garlic with a 1/4 cup more pesto and spread that on the crust as well. We paired this with "WILDFLOURs" Cheese and Pesto stuffed mushrooms it was a delicious meal!! Thanks. We are fighting over the leftovers today:)
Preheat oven to 400.
Melt 1 tbs butter over med-high heat until it starts to foam.
Sautee mushrooms 5-7 minutes or until softened. Remove and set aside.
Add reminaing 1 tbs of butter and onion to pan and stir. Cover and let cook about 5 minutes until onions soften.
Remove lid and let cook 15-20 minutes or until nicely browned and caramelized, stirring midway. Pour balsamic vinegar and sprinkle sugar over onions and stir to combine.
Meanwhile, spread roasted garlic over crust.
Spread pesto over crust.
Top with chicken or shrimp, onions, mushrooms, tomato and cheeses.
Bake 10-12 minutes or until crust is brown and cheese is melted and bubbly and slightly browned.