Pesto Alla Trapanese (Pesto With Tomato and Almonds)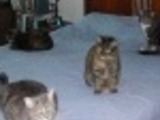 Posted for Zaar World Tour 2005. A version of Italian pesto sauce. Who doesn't like basil? My BF strangely enough, although I try to sneak it in when he's not looking. I figured 1/4 cup sauce for 1/4 lb. cooked pasta. From Vegetarian Times Cooks Mediterranean. Have not tried this yet. Update - Tried this recipe, and it was awesome and very easy! I even tried making it without the almonds, and it made a great low fat traditional pesto. I strongly recommend this recipe to all pesto lovers.
Directions
Score tomatoes by cutting a small 'X' on the bottom of each. Drop in boiling water 1-2 minutes until the skins loosen. Drain and rinse under cold water. Use a paring knife to remove skins. Slice tomatoes in half and scoop out seeds with spoon. Chop.
Place tomatoes, almonds, basil and garlic in a blender, food processer, or mortar. Drizzle in the olive oil and blend, process or grind with pestle until pureed to the desired consistency (almonds should still be a bit crunchy).
Add salt and pepper and serve over cooked pasta.
Reviews
Most Helpful
Loved the almonds in this! Very nice texture and flavor-we enjoyed this over venison tenderloin (we've had a LOT of pasta lately!) I made it in the blender and it was speedy. Thanks Kumquat!

Very nice and different pesto recipe! I initially halved this for the two of us but decided it wouldn't be enough for the amount of pasta we eat, so ended up using the whole recipe. Extremely tasty and I particularly loved the almonds - it was extra nice with some parmesan thrown in too.
Super fast and easy, super tasty, and super good for you! I used a mixture of red basil and lemon basil. DH, who is not a pesto fan (and I'm putting this mildly), rated it highly too.