Directions
Smash the garlic, the basil and the nuts with a pestle in a mortar until everything is as little as possible. Add the grated cheese, mix and add the oil.
Pesto can be prepared and stored in an hermetic tin.
Enjoy it! Karina.
Most Helpful
Pesto only really works with pine kernals (or as a last resort - walnuts) and you really need much more basil to get the true flavour
Nope, sorry, this is a garlic condiment, not pesto. Pesto needs at least 1 - 2 cups -- and I press in those leaves -- of basil. Karina, no harm meant -- you could perhaps develop this recipe further as a garlic sauce. Do not see these reviews as a reflection on your skills. At a guess, you perhaps have never had access to a glut of basil and had to make do with very little. Also, specify the nuts: it should be pine nuts, which is very expensive, or walnuts. Don't worry about this, you should see MY dud recipes.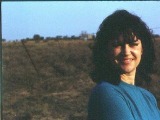 Agreed w/prev reviews-- Don't even try this recipe! You need about a cup of tightly packed fresh basil leave and either pine nuts or walnuts w/about 1/4 cup olive oil for a real pesto. Plus some parmesan cheese. Oh, and maybe just one clove (or 2 if small) of garlic. I would not even waste my time trying this.