Bev I Am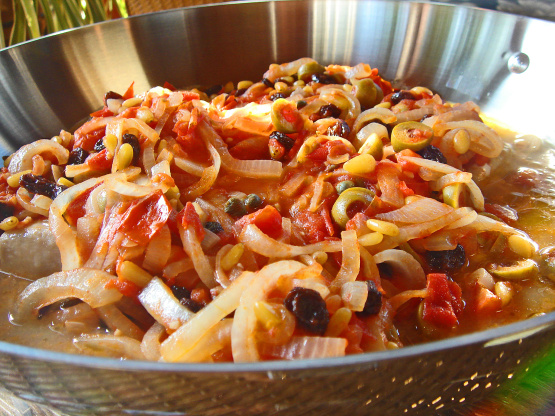 At last! A fish dish that a Southern Californian with spicy tastes can enjoy! This is great stuff! I listed the spices conservatively. Barb and I use more.

This recipe is so incredible, I can't believe I am the first to review it! The flavors combined in this sauce are all very individual and yet blend so well to highlight the flavor of the fish. I used mahi mahi steaks and they worked perfectly. I also used Vidalia onions which helped to provide a touch of sweetness along with the raisins. I will definitely make this again! Thank you so much for sharing this recipe, Clifford Boren!
fish steaks (you may use any firm deep water fish, swordfish, shark, tuna, mahi mahi. I prefer shark)

2

tablespoons olive oil

1

medium onion, halved and thinly sliced

4

small tomatoes, chopped (don't peel or seed, it's good for you!)
1⁄4 cup sliced pimento stuffed olive
1⁄4 cup pine nuts, lightly toasted
1⁄4 cup raisins

2

teaspoons capers

2

cloves garlic, smushed

3

drops Tabasco sauce (your preferred brand)
salt and pepper
Preheat oven to 450 degrees.
Rinse fish and pat dry.
Arrange fish in an oiled oven proof dish.
Heat oil in a skillet.
Drop in onion slices, and saute 2 to 3 minutes.
Add tomatoes, olives, pine nuts, raisins, capers, garlic, and pepper sauce.
Cook 5 minutes over medium-low heat, stirring now and then.
Spoon sauce over fish, cover with foil, and bake 10 to 12 minutes or until fish flakes evenly.