Peruvian Quinoa Stew....(Vegan/Vegetarian)
temopo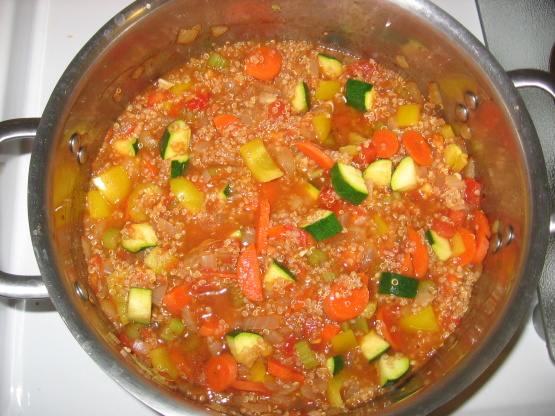 Yet another one from Moosewood cooks at home. I guess I'm in the mood for stew! You can top this with grated cheddar if you like (or vegan cheese for that mater). Cilantro is optional, but I think it really makes it. I also like cornbread with this - very satisying.

I was making a different recipe and heavily tweaking it, so I was googling around, and lo and behold I found this recipe. More or less what I made, and it's delicious. I used 1 zucchini, 4 small carrots, 3 stalks celery, 5 plum tomatoes pulsed in food processor, 1 tbl cumin (plus more), 1 tbs dried oregano, 1 Serrano pepper, dash of cayenne, 1/2 tsp chili powder, 1 tsp ground coriander, 1/2 tsp sea salt and some pepper. I threw in spinach at the end. I added 1/2 cup quinoa and used 33 oz of chicken broth. I simmered partially covered for 25 mins then threw in some spinach. I pulsed 1 cup of cilantro and 6 scallions in a food processor and added that in. A squeeze of lime and I was done!
Rinse your quinoa really well. Place it in a pot with the water and cook, covered over medium heat, for about 15 minutes or until soft. Set aside.
While the quinoa cooks, saute the onions and garlic in the oil for about 5 minutes over medium heat.
Add in the celery and carrots. Continue to cook for about 5 more minutes, stirring often so nothing sticks or burns.
Add in the bell pepper, zucchini and tomatoes, along with the spices (cumin, chili powder, coriander, cayenne and oregano). Let that blend together for just a few more minutes and then stir in the stock. Cover and simmer for about 15 minutes until the veggies are tender.
Stir in the cooked quinoa and adjust the salt to taste. Just before serving, stir in the cilantro if you choose, or sprinkle on top.