Peruvian Potato Mixed Grill
lazyme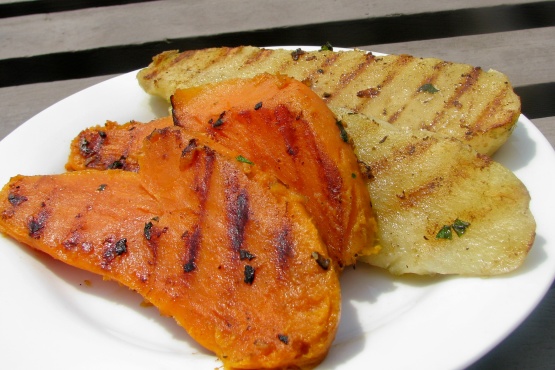 Yet another recipe from Steven Raichlen's "The Barbecue Bible" for the ZWT Event. Here is his intro to the recipe: Where did the universally popular potato originate? There are numerous theories, but the evidence seems to point to Peru. This mountainous country in northern South America is the home of such distinctive potatoes as the purple potato and camote (a type of sweet potato, but not as sweet as ours). In fact, Peru probably grows more different types of potatoes than any other country in the world. The following recipe uses a variety of Peruvian potatoes, which are available at gourmet shops and specialty greengrocers. (The Yukon Gold isn't strictly traditional, but it sure tastes good). The purple potato tastes similar to the North American boiling potato. The camote has a mild, nutty, semisweet flavor reminiscent of roasted chestnuts.

Top Review by lazyme
These were good. I used one russet potato and one sweet potato (yam). They were both large and so I boiled them for about 40 minutes. I wasn't sure if they were supposed to be soft or if the grilling would finish cooking them. I think that I may have undercooked mine a little bit. Next time I would cook them until they were soft but still manageable for the grill because the grill didn't really cook them more. Loved the seasonings. Thanks Lynn for a fun and delish dish to make. Made for ZWT7 for the Emerald City Shakers.
2

lbs potatoes (mixted types of potatoes such as yukon, sweet, purple)

4

tablespoons butter, unsalted (or 1/4 cup olive oil)

2

garlic cloves, minced

2

tablespoons parsley, chopped fresh Italian (flat-leaf)
salt & freshly ground black pepper, to taste
Place the potatoes in a large pot and add cold water to cover. Bring to a boil over medium heat and cook, uncovered, until tender, about 10 minutes for small potatoes, 20 to 30 minutes for large. Drain the potatoes, then rinse under cold running water to stop the cooking. Peel them with a paring knife and cut lengthwise into 1/2-inch-thick slices.
Preheat the grill to high.
Melt the butter, with the garlic and parsley, in a saucepan over high heat. Bring to a sizzle and cook, but do not let the garlic brown. Remove the pan from the heat.
When ready to cook, preheat a vegetable grate for 5 minutes. Brush the potato slices with the butter mixture and arrange them on the hot grate. Grill, turning with tongs, until golden brown on both sides, 2 to 3 minutes per side. Season the potatoes with salt and pepper as they cook. Serve immediately.