Heydarl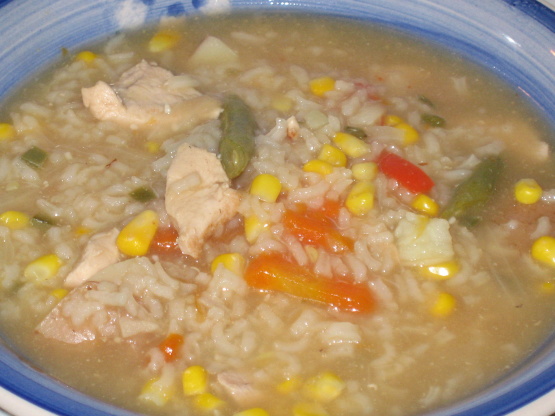 A truly delcious soup that we accompany with hot crusty bread. Also, in order to reduce the cooking time, you should cut your potatoes and chicken into smaller pieces. However, I wanted to leave the recipe in its original form as it was given to me.

Top Review by yousi
I love this soup!!!! My fiance is a very picky eater, I made it for him because he was sick with a cold and he loved it too. I omitted the peas, not fond of them, and didn't have corn at hand, but it was still delicious. This will definitely be the new way to make chicken soup in our home!
Season the chicken with salt and pepper.
Heat the olive oil in a large, heavy pot over medium-high heat.
Stir in the onion, garlic, and serrano chili; cook until the onion has softened, about 1 minute.
Add the chicken, and continue to cook for 5 minutes.
Stir in the cilantro, peas, corn, and red pepper; cook for 1 minute.
Pour in the chicken broth, potatoes, and rice.
Bring to a boil, then reduce heat to medium-low, and simmer until the chicken is opaque and the potatoes are tender, about 40 minutes.