Persian Stew - Gormeh Sabzi
OlciaK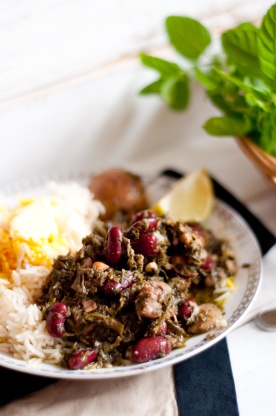 For ZWT 6 - Middle East. I got this recipe from the LA Times about 15 years ago. While it is pretty labor intensive compared to most cooking today, it is worth the effort. I love this dish. It is so delicious and healthy too. You can get the dried limes in any kind of middle eastern or Armenian market. They are sold with the dried spices, in larger bags. If you can't find mustard greens, use arugula (rocket). Beef can be substituted for the lamb if desired.

A wonderful dish but beware the 1/4 cup of fenegreek is not seeds! I used lime juice but look forward to sourcing some dried limes to use next time
Simmer lamb, whole dried limes, garlic and water in a stew pot until meat is tender, about 1 hour. Skim scum from pot.
Meanwhile, wash all greens very, very well and drain in a colander.
After lamb is tender, strain stock and skim off any fat. Put meat and dried limes aside in a bowl for the moment.
Bring the stock to a boil in the stew pot. Add greens and simmer until well wilted. Cool and puree greens in food processor. Leave it with some texture, not a smooth puree. I use the "pulse" feature.
Return greens to pot and add lamb, limes, kidney beans, cinnamon and nutmeg. Bring to a boil. Simmer to allow flavors to blend and sauce to thicken, about 10-15 minutes. Season to taste with salt and pepper.
Remove limes to serve.
Serve with steamed white basmati rice. Some people like to put a dollop of plain yogurt on the stew to serve.