Persian Slow-Cooked Chicken
Adorman5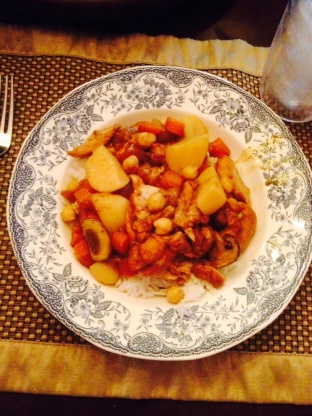 A golden-coloured casserole with a mellow spiced flavour. An easy supper dish to serve with Basmati rice. Adapted from Slow Cooker book by Sara Lewis.

I made this two nights ago and forgot to rate it, overall I think this is a great base recipe and has so much potential - it needs veggies and a can of chick peas. It was too salty for my liking and think veggies (carrots, potato, sweet potato - winter vegetables) would suit this recipe perfectly. I will make this again - but with the above changes, thanks for taking the time to post this recipe.
Slash each piece of chicken 2 or 3 times with a sharp knife.
Mix the flour, turmeric and paprika in a small plastic bag.
Shake the chicken pieces in it to coat them thinly.
Heat the oil in a frying pan, add the chicken and cook until browned on all sides.
Transfer to a plate.
Add the onion and garlic to the frying pan and fry, stirring for 5 minutes until lightly browned.
Stir in the remaining spiced flour and stir into the onion and garlic mixture.
Add the cloves, ginger and some pepper.
Pour in and gradually incorporate the stock.
Bring to the boil stirring.
Pack the chicken joints into the slow cooker and pour in the hot stock mixture. Cover with the lid.
Cook on high for 2 hours, then on medium for another 4 hours (or on medium for longer).