Persian Rice Pudding (Sheer Berenj)
COOKGIRl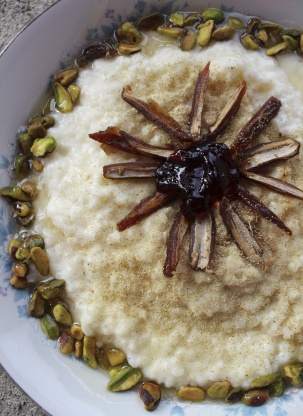 This is my favorite rice pudding. It is nice and creamy but not too heavy. The Persian version of rice pudding is very simplistic, yet beautiful in flavor masha Allah. Sheer Berenj on its own is simply made with rice, water, milk and rosewater. I love it because it is not too sweet you add a sweet topping such as a good honey or a sweet preserve (jam). Modified from a recipe found on http://mypersiankitchen.com.

I thought I would miss the sugar in the pudding but surprisingly not! After stirring the milk into the rice I increased the heat to medium-high *just* until the milk was very hot but *NOT* boiling. For presentation the rice was served in a deep serving bowl, pistachios arranged around the edge, a drizzle of local blackberry honey around the edge, too. Two dates were thinly sliced and arranged on top with a spoonful of locally made boysenberry-raspberry jam in the center. Finally, a sprinkle of ground cardamom over the surface. The rose water was reduced to 1 tablespoon. Did you mean 1/2 cup rose water? Is that correct? Reviewed for NA*ME/Summer 2012.
Wash rice and cook with 2 cups of water and a pinch of salt for about 20 minutes.
Add half & half and 2% milk and cook on low for 1 hour. Occasionally, stir the pot to make sure that the bottom does not stick.
After one hour the rice and cream will thicken into a pudding consistency. Add rosewater and let cook for a few more minutes.
Enjoy warm with a very good quality honey or sweet preserve on top!