Persian Rice Cookies (Naan Berenji)
Katzen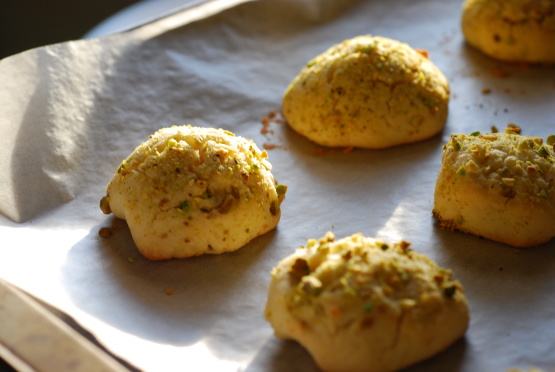 Nice light flavoured naturally-wheat free cookies from Iran. They are similar to ghorabeyeh, an Arabian Gulf shortbread cookie. The addition of eggs in this results in a fluffy, delicate texture. If rice flour is unavailable, grind raw rice or cream of rice to a fine powder in a coffee or spice grinder. This is a really light, fragrant cookie and is especially good with tea or (rice/moo) milk. Modified mainly from http://dessertofthemonthclub.blogspot.com by Kat.

Top Review by Katzen
These are very delicious cookies! I used pistacious and after finding I had two bottles of orange blossom water and not one each of rose and orange like I thought, sent DH out for some rose water. He came back with two kinds, and I used the lighter scented one, which worke out well. The cardamom is light and lovely in these cookies and we just love them! Thanks so much for posting them - they're going right into my favorites book! Thanks, UmmBinat! Made for 1-2-3 Hits.
Mix together the canola oil and white sugar.
Beat eggs and add along with the rose water to the sugar mixture.
Add the white rice flour, baking powder and cardamom and blend into a thick dough.
Refrigerate for at least 20 minutes.
Preheat the oven to 350F/180°C Line a cookie sheet with baking paper or oil lightly.
Take a spoonful of dough the size of a walnut, roll into a ball between your palms, flatten slightly, and place on the cookie sheet. Repeat, leaving about an inch between cookies.
Sprinkle the ground pistachios on top or poppy seeds if using.
Place cookie sheet in the preheated oven and bake for about 15-22 minutes, or until firm and cracked on top. They should still be quite white but have a slight golden bottom.
Remove from the oven and allow to cool before removing from the paper, and be careful these cookies crumble very easily.
Store in an airtight container until serving.