Persian Inspired Salad With Sweet Potato and Spinach
COOKGIRl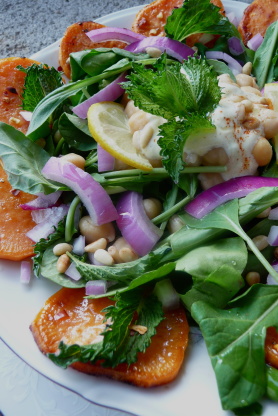 From the blog "Sprouts in the Hood" and influenced by Najmieh Batmanglij's recipes, this salad is unusual, delicious and works as a main dish for 2 or as a salad course for 4. I roasted my sweet potato and used spring onions in place of the garlic stems. I also skipped the red pepper flakes and saffron, though I'm sure each would be a fine addition.
Microwave sweet potato until soft. Run cold water over potato, while peeling skin off. Set aside.
In a skillet, brown the onions and garlic in butter or ghee. Then add sweet potato, garbanzo beans, rose water, hot pepper flakes, turmeric, saffron and salt.
Let mixture cool then add dill, spearmint, parsley, garlic stems and spinach.
Dress with some lemon juice and olive oil.
Garnish with a dollop of yogurt and pine nuts.