Persian Fruit Salad Desser Miveh
jenrost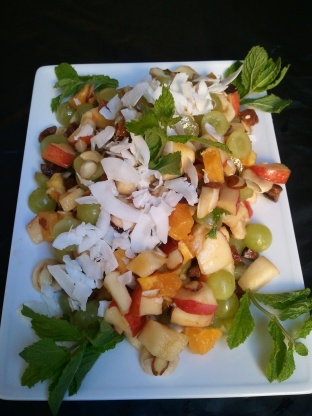 From soot food; posted for zaar 6.

I tossed the ingredients together in 10 minutes for a last minute
change of menu plans last night. We loved it! Used dried figs that I dried myself
and added 1/2 teaspoon rosewater and 1/2 teaspoon orange blossom water. The mint was
reduced to a mere 1 tablespoon and used as garnish. Freshly squeezed orange juice and local
wildflower honey. Don't add the dried fruit too soon to the salad or it might turned to goo (depends on how old the dried fruit is.) Lastly, the almonds were added on top right before serving. Will make again with seasonal fruit in fall: pears, etc. Reviewed for NA*ME tag September. Thank you!
2

oranges, peeled chopped

2

apples, peeled cored, chopped

2

bananas, sliced

2

cups dates, pitted, chopped
1⁄2 cup grapes, seedless
1⁄2 cup dried fig, chopped
1⁄2 cup dried apricot, chopped

1

cup almonds, flaked

1

tablespoon honey

1

cup orange juice
1⁄4 cup mint, for garnish
Mix oranges, apples, bananas, dates, grapes, figs, apricots, and almonds.
Mix honey and orange juice together; pour over fruit; mix.
Cover and chill for several hours.
Garnish with mint if you like.