Persian Cucumber Yogurt (Maast-O Khiyaar)
een3338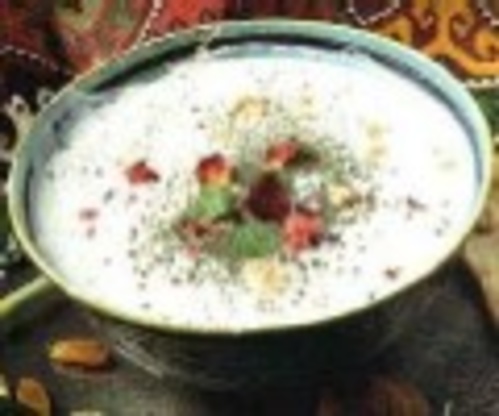 Traditionally used as a side dish, this recipe goes well along side persian stews and different types of Persian rice. It's similair to the Greek Tzatziki sauce. I learned this Persian recipe from my parents, and mastered it with my own twists.
32

fluid ounce plain yogurt (Preferrably Caravan or Abali brands, found at Middle Eastern specialty stores)

118.29

ml kefir cheese

1

large cucumber

29.58

ml mint (dried and crushed)

29.58

ml basil (fresh finely chopped)

4.92

ml onion powder (optional)

29.58

ml dried rose petals (gol-mohammadi) (optional)

118.29

ml walnuts (crushed) (optional)

118.29

ml raisins (optional)
salt (be generous)

14.79

ml black pepper, to taste
In a large bowl, mix the yougurt and kefir cheese.
Finely chop the cucumbers and add to yogurt mixture.
Add basil, mint, salt, pepper, onion powder, raisins, walnuts, and dried rose petals to the mixture.
Mix well.
Refrigerate for an hour and serve.