Persian Chicken Stuffed With Rice
rpgaymer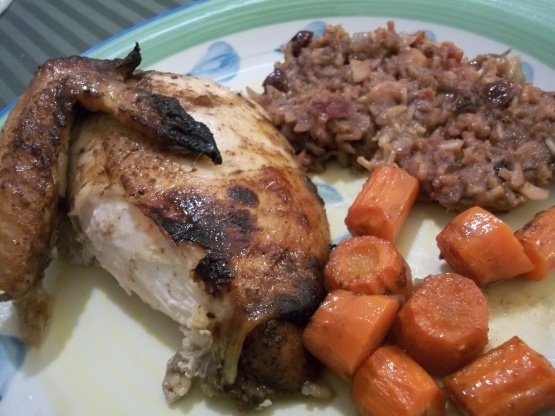 The rice stuffing is very simple to make and turns out beautifully! If barberries are not available, chopped fresh cranberries or sour cherries are a good substitution. Preparation time does not include marinating time. Adapted from Persian Cooking for a Healthy Kitchen" by Najmieh Batmanglij.
Mmmm, this chicken was so tasty and full of flavor, and the rice was divine. I just wish there were more of it. I also added some sliced carrots to the roasting pan, and they came out with a delicious glaze from the chicken fat and apple juice. It all made for a really great meal- thanks for sharing.
Clean and wash hens. Remove fatty portions and fat from cavity. Marinate 6 hours-overnight with a cup or so of apple juice and salt, cinnamon, cumin, onion and a little paprika (all to taste).
Brown the onions and garlic in 1 tbs oil. Add the uncooked rice, cumin, cardamom, cinnamon, rosewater, 1 tsp salt, and pepper. Cook over medium heat 5 minutes, stirring occasionally. Add chicken broth, cover and simmer over low heat for 20 minutes.
Add the barberries, almonds, raisins, and lime juice to the rice. Mix gently, and cook for several more minutes. Remove from heat. Adjust seasonings to taste.
Preheat oven to 350 degrees. Stuff the hens with the rice mixture, and tie the cavities shut. Rub each with 1 tsp salt, additional cinnamon, cumin, paprika and 1 tsp sugar.
Place hens in a greased baking dish. Mix saffron (dissolved in hot water- optional) and about 1/4 cup apple juice, and pour over the chicken. Cover pan with foil.
Place in the oven and roast for approximately 45 minutes, or until fully cooked and no longer pink. Baste occasionally.
Garnish with lime slices and enjoy!