awalde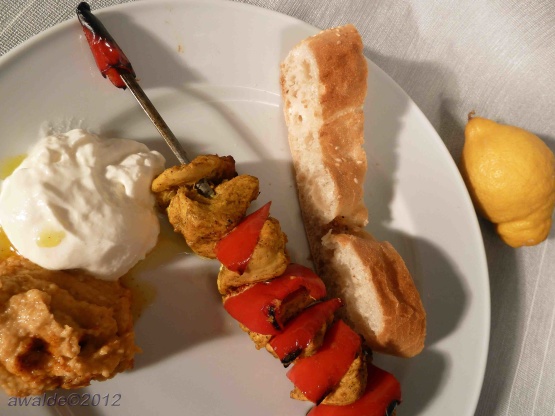 A wonderfully flavorful grill recipe for boneless chicken thighs or breast meat if you prefer. Prep time does not include marinating time.

Top Review by awalde
I was really sorry as I finished my skewer, I would like to have more of them!
The spice blend was exceptional and I loved the big portion of cardamom in them!
I baked the skewers with the grill in the kitchen oven and worked perfectly. I added some red peppers and I served the skewers som balkan yogurt and hummus with them.
A great recipe to recommend!
Soak 8 skewers in water to prevent burning. To make the marinade, whisk together the cardamom, turmeric, allspice, garlic, lemon and oil. Season with salt and pepper.
Cut each chicken thigh fillet into 1-1 1/2 inch cubes. Toss the cubes in the spice marinade. Thread the chicken onto skewers and place on a tray. Cover and refrigerate overnight.
Cook the skewers on a hot, lightly oiled grill or grill pan for 4 minutes on each side or until the chicken is cooked through. Serve with lemon wedges and plain yoghurt.