COOKGIRl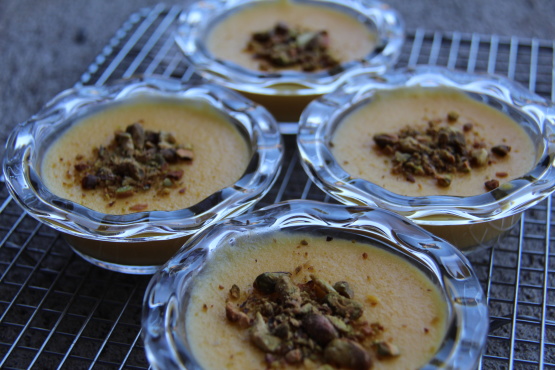 I had fun playing around with this recipe. First I used long grain jasmine rice which was whirled in a coffee mill. Arrowroot replaced cornstarch and I used a combination of frozen peaches and mango. Whole milk for skim and most importantly, since this is Persian I replaced the vanilla extract with rosewater and orange blossom water. The top of the pudding was garnished with toasted pistachios. Easy to make and very adaptable depending on which fruit you have on hand. Did not bring the milk to the boil but almost to the boil to avoid burning. Made for Recipe Swap #88 in Australian/NZ forum.
Have a 1 quart shallow bowl ready.
Place rice in a blender container and blend until fine, about 1 minute. Place in a small bowl and add cornstarch and water. Stir to dissolve cornstarch.
Place drained apricots in blender container. Blend until smooth. Add enough milk to apricots to total 4 cups. Pour into a small saucepan.
Add sugar and rice mixture.
Cook over medium heat, stirring constantly, until mixture comes to a boil. Continue to cook and stir for 5 minutes. Remove from heat and stir in extracts.
Pour pudding into bowl. Let cool at room temperature for 30 minutes, then chill throughly.
Note: cooking time does not include chilling time.