Perogies Casserole II With Smoked Sausage for Two
Bergy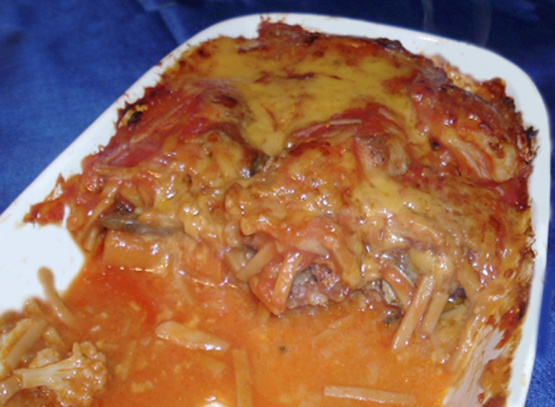 Perogies are reasonable and can be made intoa very tasty one dish casserole incorporating a few veggies that even kids will eat. I made a mistake when I reached in the cupboard for a can of Tomato soup and didn't look - opened it and it was Tomato Noodle Soup - It worked great so I am puting the option in the ingredients, The Noodles just melded right into the casserole. I apologize to all that like authentic perogy recipes (I love traditional dishes too) but this is very tasty! Takes minutes to put together . A green salad goes well as a side dish. Double or triple the recipe - Use your imagination with the veggies, great for "clean the fridge".

I omitted the sausage, used 15 perogies to fit my baking dish (a size bigger than 9x9, worked out well for leftovers) used mushrooms, cauliflower, red pepper, bit of salsa mixed in with soup, 1/2 mozza and 1/2 cheddar. Caramelized onions to slather over the top at serving time (omitted onions in baking). This baked 40 min @ 375F and 10 min without lid. DH liked this more than me..maybe I'll add sausage next time and find the zip I was missing!
Preheat oven to 350°F.
Cook your Perogies according to instructions.
Usually about 5 minutes in salted boiling water.
Chop your onion, slice the mushrooms, slice the carrots& cut any other veggies into bite size pieces.
Lightly grease a 9"x9" baking dish.
Place the sausage& veggies in the dish.
Place perogies on top, mix the hot sauce with the soup, spoon over the top making sure that each perogy is covered.
Lightly cover with foil.
Bake for 45 minutes, remove foil, top with cheese reurn to oven uncovered for a further 15 minutes or until the cheese has melted.
Serve.