Mary L.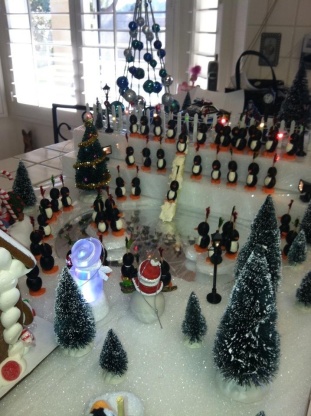 These tuxedo-clad tidbits are actually ripe olives stuffed with a mildly seasoned cream cheese filling.

These came out so cute that everyone said they felt bad eating them. To speed up and ease prep time I used flavored onion/chive cream cheese instead of taking the time to mix filling ingredients. I also cut very thin strips of roasted red pepper to ad little scarves. Tip= allow cream cheese to become very soft before piping, it will be cleaner and easier but once filled, refridgerate filled olives prior to assemble to firm up cream cheese. This will make assembly much easier. Pat roasted pepper strips dry w/ paper towel for easier handling.
Cut a slit from the top to the bottom of 12 jumbo olives; set aside.
In a mixing bowl, combine the next six ingredients; mix well.
Fill a small heavy-duty plastic bag with cream cheese mixture.
Cut a small hole in the corner of the plastic bag; carefully pipe mixture into jumbo olives.
Set aside.
Cut a small triangle out of each carrot slice; press triangles into small olives for a beak.
On each notched carrot slice, position a jumbo olive so the white chest is lined up with the notch for the feet.
Place the small olive, hole side down, over the jumbo olive so the beak, chest and feet are aligned.
Carefully insert a toothpick through the top of the head into the body and carrot base.
Wrap a pimento around the neck for a scarf.