Pellerin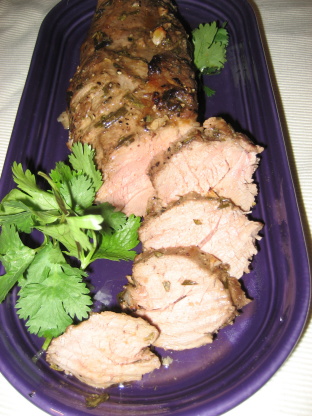 I combined a couple of marinated pork recipes and came up with this one. It was one of the best yet, we made sandwiches with it for days after!
Mix all ingredients together and marinate overnight (this is the secret).
Set the oven to 400°F
Spray an oven-safe dish with Pam or olive oil.
Place pork tenderloins in the dish - side by side with tips folded under.
Roast pork tenderloins in oven to an internal temperature of 170 or 180°F (about one hour).
Pull from oven and let rest 10 minutes before slicing.
Always allow your roasts to rest after taking them from the oven, at least 10 minutes.
This allows your roast to finish cooking and redistribute it's juices, therefore creating a more juicy meat.