Katzen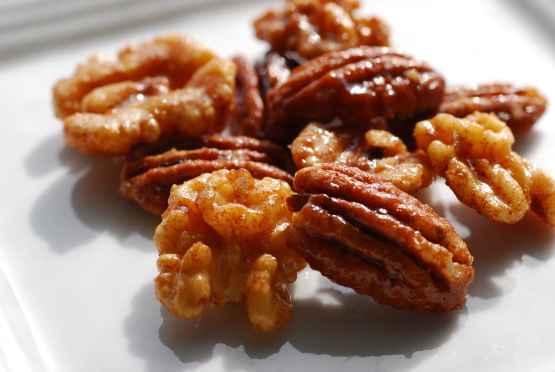 This is EXACTLY what I had been looking for. I have made a ton of candied nut recipes and nothing quite works for me. . .this one makes the cut! Feel free to use walnuts instead of pecans. They are heavenly as a snack, ask a housewarming gift or simply on top of a salad. This is a twist on a couple different recipes already here on Zaar.

These are excellent, very well balanced, and extremely easy to make. I doubled the recipe and added a 1/2 teaspoon of cayenne pepper. Boy, did these turn out well. I ended up toasting them for more than five minutes in the oven, let them cool, chopped them and then caramelized them. Exactly what I was looking for as a topper for a sweet potato cheesecake.
Preheat oven to 375 degrees.
Mix sugar, salt, cinnamon and nutmeg in a small bowl and set aside.
Saute butter and maple syrup in a large pan, and bring to a boil.
Remove from heat. Add nuts and toss to coat.
Transfer nuts to a rimmed baking sheet lined with aluminum foil.
Sprinkle with sugar mixture over top of the nuts and toss gently to coat; DO NOT MIX too much because the sugar will dissolve and won't stick to the top of your nuts.
Spread out the nuts so that they are not touching one another.
Toast in oven for 5 minutes.
Let nuts cool completely on sheet.