Perfect Sugar Cookie Glaze
I needed an easy glaze the hardened quickly (instead of over night like so many) but one that still had good flavor. This dries hard enough to stack the cookies. Note: Make one batch at a time. It's unmanageable in anything larger. Children's water color brushes or those used for painting chocolate molds work well. Make sure to put down wax paper or parchment paper on your work surface and prepare for messy kidlets. Originally found at All Recipes
Directions
Stir sugar, corn syrup, vanilla and the milk together.
Stir in food coloring a few drops at a time until you reach the color desired.
This glaze must be stirred each time you use it or dries with a mottled look.
Yield: 1/2 c glaze.
Reviews
Most Helpful
The perfect glaze. We used if on top of store bought cookie dough as we didn't start making Santa's cookies until 8pm on Christmas Eve and they were 100% ready (from tube to plate) by 8:45!
I really like how this glaze hardens so you can stack the cookies without messing them up! I used it on Cream Cheese Cut-Out Cookies. I tried tinting it blue but because my vanilla was brown it make it kind of a weird color. The next batch I used clear almond extract and let if white. We thought it showed off the sprinkles better anyway. I'll definitely use this recipe again!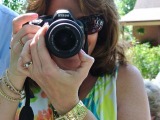 Used honey instead of corn syrup (as it's not available here) and this still worked perfectly! Great smooth result when I dared to use enough - for some reason I often tried to skimp a little on the glaze, so the uneven surface on a few of the cookies in the pic are my fault entirely. I used the glaze on Rich Chocolate Cutout Cookies though, not sugar cookies, but this went SO well with the intensive chocolate cookie base. Thank you very much for sharing!