Gregg M.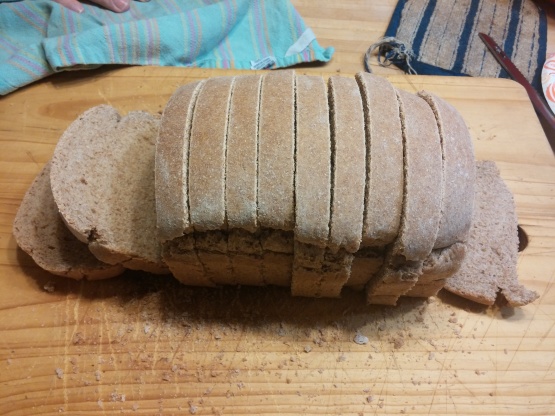 I found this recipe somewhere on the internet years ago and it is the best spelt bread recipe I have ever used. I am putting it on here so that I won't lose it. I get lovely light perfectly raised loaves of bread each time I make it. The trick with spelt is to NOT over knead it. When using wheat flour it is almost impossible to knead "too long" but with spelt flour if you knead too long your finished loaves will come out heavy and crumbly. Remember to add the flour gradually and only use enough that you don't actually stick to everything as you knead. I usually add the last cup or so a bit at a time so I can stop when I think the dough has enough flour. Hope you enjoy it! For a lighter flavour and texture, use up to 50% white spelt flour. NOTE: IT IS IMPORTANT THAT YOU DON'T OVER-KNEAD SPELT DOUGH!

This really is the PERFECT spelt bread recipe !!! You guys HAVE TO TRY IT. I made one regular size loaf so I cut everything in half and used a 9x5 pan. I used instant yeast instead of active (2 1/4 tsp), used coconut milk (diluted, couldnt even smell or taste the coconut), added 1 tsp xanthum gum to the flours and 1/4 tsp ginger powder to the yeast mixture. Lastly, I added 1 TBSP lemon juice during the kneaded process. This loaf baked like a regular wheat bread . . . HIGH & SOFT !! I mixed the dough for ONLY 5 minutes in my bread machine and transfered to the loaf pan and let it rise in my warmed oven. It took me only 30 minutes until it barely went over the pan (be careful not to overrise). I am making another loaf tonight !! I MEANT TO HIT THE 5 STARS BUT ACCIDENTALLY WENT TO 3 ??
Combine the yeast, water and honey in a large warm bowl. Let stand for 10 minutes or until the yeast softens.
Stir in the butter and salt and 3 cups of flour. Stir vigorously with a wooden spoon.
Add the remaining flour in increments until the dough become too stiff to stir, then place the dough on a lightly floured surface.
Knead for about 6 minutes, adding the remaining flour as necessart, until the dough become smooth and elastic. Do not overknead!
Place the dough in a lightly greased bowl. Cover and let rise in a warm, draft-free spot for about 2 hours or until doubled in bulk. (I find that sometimes it only takes an hour, make sure to check!).
Grease two 8 1/2" x 4 1/2" loaf pans. Punch the dough down to deflate it and divide it in half. Form each half into a smooth loaf and place in a prepared pan.
Cover and let rise in a warm draft-free spot for about 1 hour or until the dough has risen to the top of the pans. (Again, I find that it seems to take less time than listed here.).
Preheat the oven to 350°F.
Uncover the risen loaves. Place the pans on a heavy baking sheet and bake for 45 minutes or until the tops are light brown and crusty. Remove from the oven and tap out of the pan into the baking sheet. Turn the oven off and return the breads to the oven to crisp for 5 minutes. Remove from the oven and let cool on a wire rack.