Perfect Southern Fried Chicken
Ashley Cuoco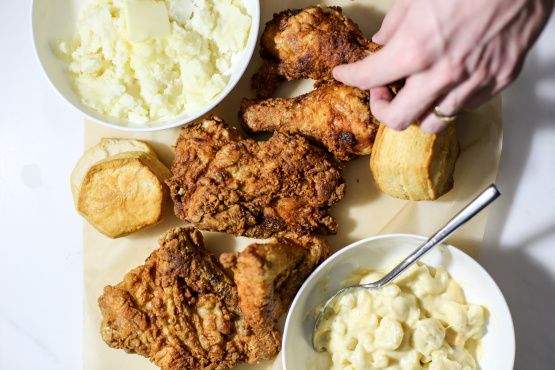 This is an outstanding recipe. When I found this I decided I didn't need to look for the perfect fried chicken recipe any more - I already had it.

This was very good but I agree with others that the cornmeal creates a bit of a gritty texture. I made it exactly as the recipe states except I used Seasoned Salt which has a great flavor for chicken. Instead of the cornmeal I usually use Panko which you can find in the oriental area of the grocery store. Use about 3/4 cup of in place of 2 TBS cornmeal. There is no gritty texture with panko and the chicken ends up nice and crispy. Also, I have better results with the breading sticking better and frying crispier on the chicken with less buttermilk. I would use 1/2 cup instead and an extra egg.
Soak chicken in water and salt at least 2 hours in the refrigerator.
Mix buttermilk, eggs and Season All and dip chicken pieces in this mixture.
Combine 1 cup flour, 2 tbsp corn meal, 2 tsp dried oregano, and 2 tsp Season All in a bag.
Drop two pieces of dipped chicken in the bag at one time.
Shake to coat.
Place on wire rack to rest.
(I place wax paper under the rack to catch any flour that falls off.) Heat a shallow layer of oil or shortening to 360 F in a jumbo chicken skillet (cast iron is great for this job) or an electric skillet.
Place the chicken in the pan, trying not to crowd the pieces.
Cover for the first five minutes.
Check the chicken.
When golden brown, turn.
Cover for the next five minutes.
Remove cover and cook uncovered, turning occasionally, as needed for a total of an additional 20 minutes or until cooked through.
Watch carefully, and don't allow it to get too dark.
If it's frying too fast, reduce heat slightly.
NOTE- the key is to cover in the beginning to start the cooking process inside the chicken, but to uncover during the last part of the cooking time to get the outside nice and crispy and golden brown.