luvmybge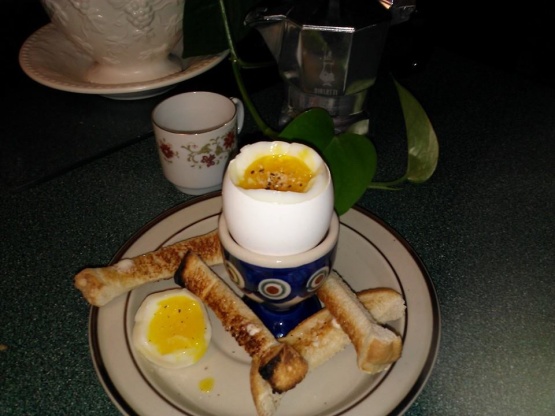 I ran across this method on the Internet a couple of years back. It worked perfectly!

This is the perfect recipe for soft boiled eggs. No guessing on the time. I like my white done while having the yolk runny. No mess.... a good low fat protein to start the day. I saw the recipe on America's Test Kitchen and had to try it. Now I just need that cute gadget that with a snap or two will take a nice clean cut off the top of my egg. (Rosle egg topper/cracker) Oh yeh.. just ordered one.
Bring 1/2 inch of water to boil in a pot with steamer basket. ( I use my electric kettle to heat the water super fast.).
Using tongs, put both eggs in the steamer basket and cover. Set timer for 6 1/2 minutes.
When time is up, immediately run cold water on them.
Peel, add salt pepper and butter, or use over pasta or an Aussie style burger!