Marlene.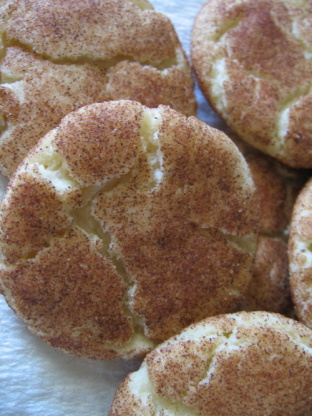 These are just like the ones my mom used to make and always come out PERFECT! I've been accused of buying them at the store and passing them of as my own.

I give this recipe 4 stars simply because it is so simple and easy... but I had to add 1/4 cup butter because the batter was so dry I couldn't ball it. I also added 2 t Vanilla and they turned out mighty tasty.
Mix first 3 ingredients together thoroughly. Sift the remaining ingredients together in separate bowl. Stir the two mixtures together. Roll into balls the size of walnuts.
Dip balls in mixture of equal parts cinnamon and sugar. Place two inches.
apart on lightly greased baking sheet. Bake until lightly browned.
but still soft (8- 10 minutes) at 400° farenheit.