Peter J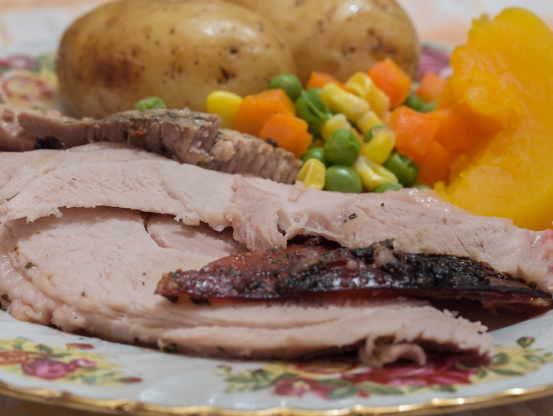 Classic smoked pork roast, amazing flavor, tender and juicy.

Awesome! Perfect method that gives a wonderfully moist and tender result with just the right amount of smokiness. One thing that suprised me given the low temperature was that the crackling while not super-crispy made a great snack almost like jerky in texture.
Combine all rub ingredients except sugar and grind into a green thick liquid with a food processor, blender or immersion blender.
Brush or rub green liquid over roast, sprinkle with sugar and wrap tightly with several layers of heavy duty foil.
Place in refrigerator for a minimum of 4 hours, but preferably overnight.
Soak 2 large chunks of hickory in water.
Light about 40-50 coals or an equal amount of hickory.
Do not use lighter fluid, a fire starter chimney is the best method.
Once coals are covered with a gray ash push them over to one side put the soaked hickory chunks on the coals and replace the grate, open the top of the foil wrapped roast and add about 1 cup of water.
Place roast on cool side of grill and put the cover on the grill with the holes over the meat.
Turn the meat 180 degrees every 60 minutes.
Add some more coals/wood in about 2 hours.
Smoke for a total of 4- 6 hours, internal temperature of the meat will be 170°F or so.
If the meat starts to get too brown, tent it with another sheet of foil.
The temp inside the grill should be around 275°F.
After removing from the grill be sure to cover with foil and allow to sit 15-20 minutes before carving.
Serve with your favorite bbq sauce, we like recipe#26794, Lee Lee's Famous Barbeque Sauce for Ribs w/ Preserves.
Brush some on the meat for the last 5-10 minutes of the cooking process if desired.