mliss29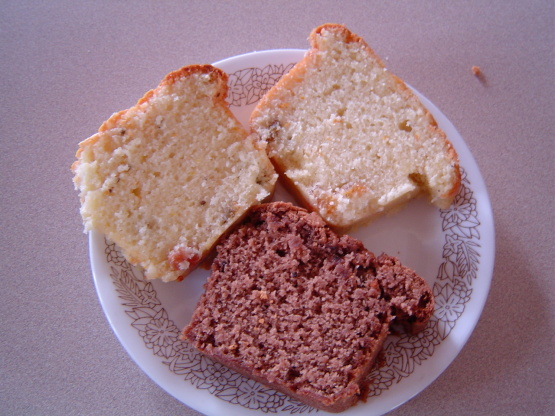 This recipe is the final result of all cake recipes I have ever tried and this is (in my opinion) the best recipe you could use for having a great cake. I consider this recipe is the basic mixture I use and then I use any of the variations I know to end up with a different cake each time. Note: Regarding the flour, I either use 3 cups of all-purpose flour or 2 cups all-purpose flour + 1 cup whole-wheat flour to have that grainy rustic texture of cake which I like, so it depends on your personal taste.

I made so many mistakes with this and yet it turned out great. I thought I would divide it up and try 3 options in mini-loaf pans but I should have tried 4 (or 5?) or just 2 and used regular-sized bread pans. My family has gobbled up the cocoa loaf (option 3) but the others (options 1 & 2) are really good too. Maybe I'll get those to myself! Oh! The other mistake was to forget the baking soda and powder until one of the loaves was already in the pan. So I poured it back into the bowl and added about 1/2 tsp baking powder to each of the 3 bowls. They were great. I may try the cocoa version with frosting soon. Thanks! Reviewed for Pick-A-Chef.
Put the oil in electric mixer bowl, put in sugar, beat the mixture until blended.
Add the eggs one at a time, beating well after each addition.
Mix yogurt with water.
Add flour in thirds alternating with yogurt and water mixture.
Add baking powder, baking soda and one of the variations mentioned above (or you can be creative and add whatever you like).
Pour the cake mixture (the mixture shouldn't be thick, it is almost watery in consistency).
In greased, floured cake pan (I prefer the one with the whole in the middle or a loaf pan for easy cutting).
Put the cake in COLD oven, set the heat at 180°C, let the cake in the oven until a toothpick inserted in the center comes out clean, about 1 hour.
Remove the cake from the oven,let it sit for about 10 minutes, remove from pan.
Let the cake cool on wire rack (or I put the cake in plastic bag and close it while the cake in it so the outer surface of the cake won't be hard, it will be soft instead.
Optional: You may sprinkle icing sugar on the face before cutting into pieces.
Serve the cake with orange juice, coffee or hot tea.