sepsilver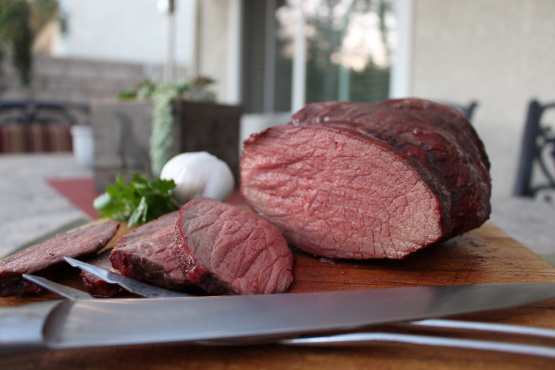 For as long as I can remember, my mother has been fixing the perfect rump roast. It is by far my favorite meal. Served with rice and gravy, I am one happy camper. I love mine rare. Lately I have been fixing one on Sunday, having my Sunday meal and then I have the rest to eat on all week long. Life doesn't get any better. One thing my mom used to always remind me was to take your meat out well before you are going to cook it so it gets to room temperature.

Perfection! I took my 5 pound roast out of the fridge a good 2 hours prior to cooking and used about 7 or 8 cloves of garlic. After searing I added a splash of worcestershire, garlic salt and onion powder to 2 cups of water (my roasting pan is quite large). After the first hour I added some quartered yukon gold potatoes (plus a cup more water mixture) and continued to cook (and baste every 30 min) for a total of roughly 3 hours. Unreal flavor, it tasted like Prime Rib; no kidding! Thank you Gone Fishin' for sharing your mom's truly perfect "Perfect Rump Roast" recipe with the world!
DO NOT USE A GLASS PAN FOR THIS RECIPE.
Pre-Heat the oven to 500 degrees.
Prep the roast by making 4-5 slits in the roast and filling the holes with salt, pepper and 1/2 of a clove of Garlic.
Now Salt and Pepper the rest of the roast.
Put the Roast in the oven and sear for 20 minutes.
Then add the water, the chopped onion and reduce the temperature to 275 degrees.
Cook for 20 minutes per lb. I like mine rare so that is what you will get if you cook for this period of time.