-Sylvie-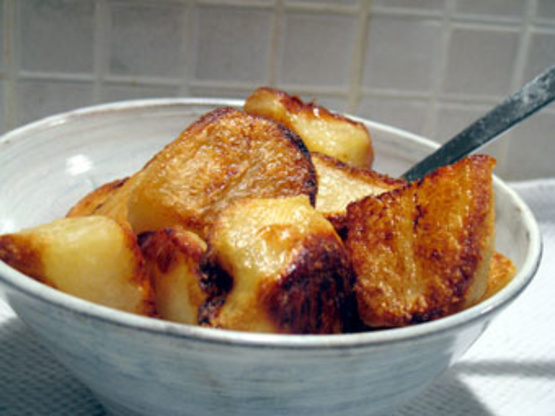 A must with roast beef or Christmas dinner here in England. Not the healthiest way to make potatoes, but so good that every once in a while it's worth it. Beautifully crispy on the outside and soft in the middle. This is adapted from a Hugh Fearnley-Whittingstall recipe. My favourite TV chef.

These potatoes are terrific,wonderfull ,very yummy espicially with a bit of gravy on them.Make sure you par-boil them first otherwise they won't be fluffy on the inside.I sometimes season them with garlic before putting in oven.Another way to rough the sides of the potatoes is to shake them in a colander after boiling them.
4

lbs floury potatoes, peeled

4 -6

tablespoons sunflower oil or 4 -6 tablespoons peanut oil

2

tablespoons drippings or 2 tablespoons lard
salt, to taste
Cut your peeled potatoes into chunks, approximately the size of an egg.
Par-boil them in salted water for about 8 minutes.
Set aside and leave to cool completely.
Preheat the oven to 400°F/200°C/Gas 6.
Pour the oil and dripping into a large roasting tin and place in the hot oven to heat.
Rough up the sides of the potatoes by scratching them with a fork and season with salt.
When the oil is hot, carefully place the potatoes in a single layer in the oil.
Baste or turn over immediately, so they are coated with oil on all sides.
Roast for 45 minutes, turning at least once.
After that time, it's up to you to decide whether they are crispy enough or whether to give them another 15 minutes.
Drain of fat and place on paper towels to absorb more access fat.
Season again with salt before serving.