Sageca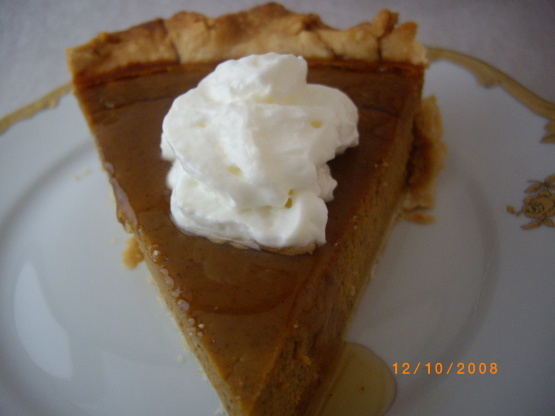 This recipe is from Canadian Living and it is the best pumpkin pie ever; I promise you.
On a lightly floured surface, roll out half the dough and line a 9" pie plate. Set aside. Roll out remaining dough and cut small maple leaf shapes with cookie cutter.
Refrigerate 30 minutes, both crust and cut outs. In medium bowl, beat eggs lightly, add pumpkin, sugar, spices and salt; mix well. Blend in cream.
Pour mixture in prepared pie shell.
Bake pie and cut outs 15 minutes in a preheated 425°F oven.
Remove cut-outs, reduce heat to 350°F and bake 45 minutes more or until knife inserted in filling comes out clean. Let cool and garnish with cut-outs.
Serve with whipped cream.
We always pour some corn syrup on our pumpkin pie.