RyGuy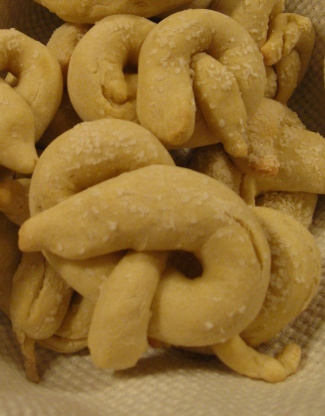 These soft pretzels are fun to make into different shapes, and go great with spaghetti and lasagna. I help my mom mix and shape the pretzels, and everyone thinks she spent all day in the kitchen. Batch can easily be doubled for larger groups. These pretzels are best served warm, but will last several days if kept in a sealed container.

Just a tip, before rolling out pretzels, weigh them out to about 1 ounce each to make the 20 pretzels. I made 10 big ones (about 2 ounces each). Came out pretty good, but didn't really taste good the next day. I made some salt ones, some with garlic powder and parm cheese and some cinnamon sugar ones. All were awesome fresh out of the oven!
In a large bowl, dissolve yeast in water.
Add salt and sugar.
Gradually blend in flour.
Lightly coat counter or work area with flour and knead until smooth.
Cut dough into small pieces.
Roll into desired shapes and place on greased pan(s).
I like to make a "snake" about 1/2" thick and 6" long, and form a cross over pretzel. Letters are fun as well as any shape that keeps the dough 1/2" to 3/4" thick.
Brush with beaten egg and sprinkle with coarse salt.
Bake at 425 degrees for 12-15 minutes or until starting to turn light brown.