Pixie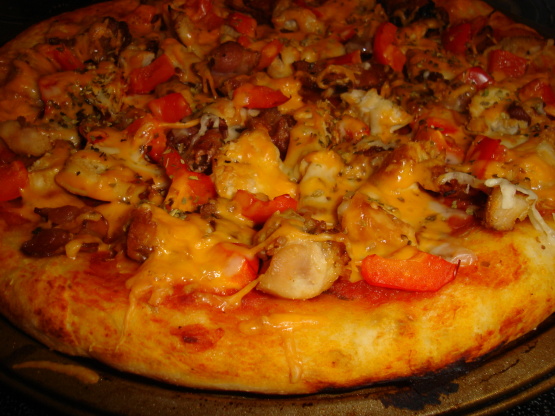 Wonderful, chewey pizza crust. Makes one generous 16 inch pizza or 4 or more calzones.

This is a wonderful crust and I plan to make it again. I made one large pizza and the crust was crispy on the outside and had a wonderful chewy texture and great taste. The dough was nice and responsive and easy to spread in the pan after it rose. Thanks for sharing!
Dissolve yeast, brown sugar in warm water; allow to sit for 10 minutes.
Stir in salt and olive oil.
Mix in 3 cups of flour or enough to form a soft dough. Turn dough out onto a well floured surface and knead in more flour until dough is barely sticky to the touch.
Place dough into a oiled bowl and cover with plastic wrap.
Let dough rise until doubled, punch down and form into a tight ball. Allow dough to relax for 5 minutes prior to stretching and rolling into desired shapes.
Brush lightly with olive oil, pierce with a fork all over dough and par bake crust at 425 for 5 minutes.
Add desired toppings and bake for approximately 10 minutes or until desired level of doness is reached.
Allow to cool for 4-5 minutes prior to cutting to allow cheese to set.