Syrinx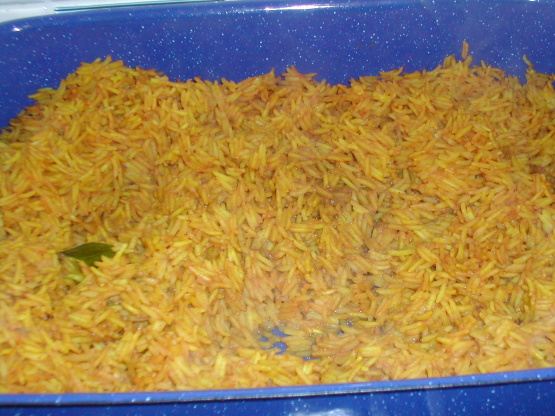 I love this rice, I discovered the perfect way to cook Basmati rice in Vegetable Heaven and the spices to make it fragrant were from The Great Curries of India. This goes perfect with any indian meal and easily multiplies. I put four servings as in 4 side dish servings.

Oh this is a dish we make daily at home, my dad loves this! Sometimes, I like substituting the water with vegetable broth. Also, I do add a stick or two of cinnamon besides cloves. Wonderful and perfect as you said!
Wash rice well, put water on to boil with salt.
Preheat oven to 350F and grease a 10*13 pan.
Add rice and all other ingredients to boiling water.
Boil for 10 minutes, take off pan and rinse well under running water.
Spread rice in roasting pan and place in oven.
Bake for 10-15 minutes.
Serve or add any other ingredients.