Perfect Peanut Butter Pancakes
Pajene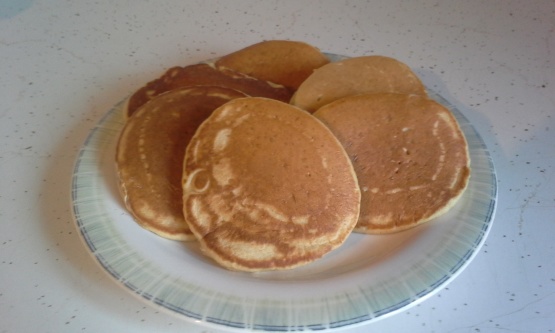 Stumbled upon an older recipe but was looking for something with a bit more flavor. I made a few changes and I'm so happy with the results I wanted to share. Please note the peanut butter flavor is subtle and not overwhelming. My husband didn't even see a need to add syrup - was eating them like cookies - lol. :)
Warm 1/2 cup milk in microwave for about 20 seconds then pour over oat flour (I made my own by putting rolled oats into food processor). Give a gentle mix and allow to rest for 10 minutes.
In a separate bowl, stir together the all purpose flour, baking powder and baking soda.
Beat egg with peanut butter, brown sugar and butter milk, pour this over your dry ingredients.
Now add in the moist oat flour and mix everything very well - batter will be thick. Add in remaining 1/2 cup of milk or more to get pancake batter consistency.
Spoon 2 heaping tablespoons of batter into circles onto hot non-stick griddle or lightly buttered skillet- Low-Medium Heat. Cook until tops are bubbly and edges look dry. Turn and cook until lightly browned. If you would like larger pancakes pour more batter per pancake - please note this will alter the total amount yield from what is posted above. I've gotten as many as 14 (3in round) pancakes from one recipe - I like the small size for kids.