Perfect Peanut Butter Cookies
WiGal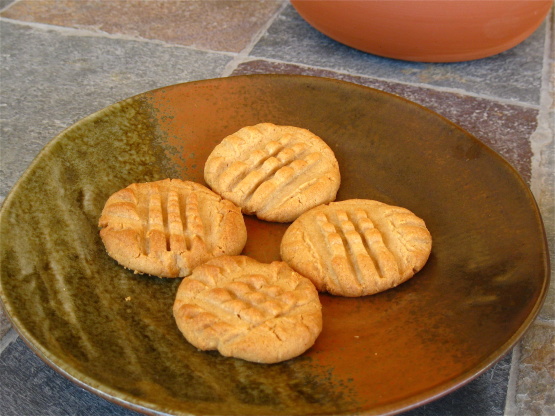 I started out trying to perfect the peanut butter cookie. If you love peanutbutter, this is it, soft and chewy with crisp yummy edges!! Enjoy!

Top Review by WiGal
Liked the taste, but they do not hold together well. Hard to eat a cookie if it falls apart in your hand. Wondered about the flour amount to peanut butter and then after making them realized that when I reduced the recipe from 36 cookies to 18 food.com said 1 3/4 cups divided in half was 1 CUP flour so beware! These are a bit cake like-maybe the baking soda does that? The first two cookie sheets I baked at 400 degrees and last cookie sheet reduced the oven to 375 and baked a bit more than 12 minutes. Next time I would roll them in sugar. Thank you Chef Luny for sharing.
Preheat oven 400°F.
Cream butter and brown sugar until smooth, about 5-7 minutes on 2 with the mixer stand. Add in the peanut butter, mix until all blended.
Add in eggs, one at a time and vanilla, beat for about 2 minutes on 2.
In another bowl, combine flour, salt, baking powder and soda together. Then slowly add to the peanut butter mixture and blend well. Once you have it blended well, add in the other half of the flour.
Line your baking stone or cookie sheet with parchment. Spoon 1.5 teaspoon of dough. Flatten a tad with a fork.
Bake for 8-10 minutes. Enjoy!