Karen..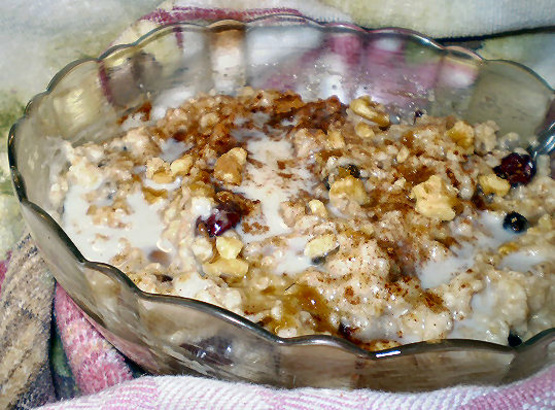 This nutritious oatmeal is so yum and so good for you, tuck into this every morning and feel the difference

THANK YOU! Aptly titled, this IS the perfect oatmeal! And since I need to eat oatmeal 1-2 times per day, I am so happy I found this recipe. I didn't have enough raisins, so I added some dried cranberries to make up the 1/2 cup. I sweetened mine with brown sugar and topped with vanilla soymilk. This does make 2 hearty servings, but half of this recipe is the perfect amount for me to keep a full belly all morning. Thanks much!
Combine the water and salt in a small saucepan and turn the heat to high.
When the water boils, turn the heat to low, add oatmeal, and cook,.
stirring until the water is just absorbed (about 5 minutes).
Add cinnamon, raisins, and walnuts, stir, cover the pan and turn off heat.
Let set for 5 minutes.
Serve with milk and sweetener.