Perfect Microwave Poached Egg
ImPat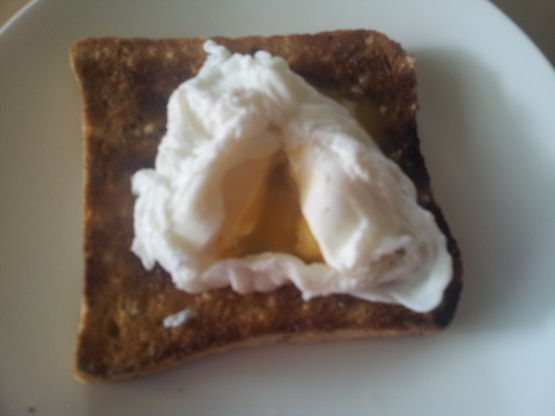 I found this recipe on another site and it works! Perfect poached egg in 45 seconds! This takes the time and work out of poaching an egg. Enjoy!

Top Review by ImPat
I will certainly be making this recipe again, so quick that my egg was cooked before my toast though I don't think I would do the extra 15 seconds just the first 45 seconds as my egg yolk had just began to set, I have a 900W microwave. Thank you JFitz, made for Name that Ingredient tag game.
Boil water and add 1 tsp vinegar. Fill a ramekin or any microwave safe bowl 3/4 of the way with boiling water. Crack an egg and gently slip it into the water. Cover with plastic wrap or a plate and microwave on high for 30 seconds. Use a soup spoon and gently turn egg over, this is so it cooks on both sides. Cover again and microwave 15 seconds longer. Remove immediately from water with a large spoon and drain on a paper towel. Enjoy!